Product Description
Thor 20-1414 (Vaughan DB175) 2 lb Cast Aluminum Dead Blow hammer, with 1 3/4" white nylon faces.
A cavity inside the head is partially filled with steel shot which adds to the weight, prevents rebound and delivers 'dead' blows of maximum force.
Faces are designed to wear and to be replaced by hand.

All faces are one piece moulded.

No metal pegs or inserts to damage the workpiece when worn.

Serrations in the metal head prevent faces coming loose during use.

Faces have a shoulder for extra strength and to prevent fracture from misdirected blows.
Weight 900g (2 lb)

Face diameter 44mm (1 3/4")

Length is 12 1/4"

Fitted as standard with screw in White Nylon Faces.
Replacement White Nylon Face ref 76-714NF
This hammer comes with two replaceable white nylon tips. You can order these other tips of varying hardnesses.

Gray Soft Tip
- Shore A 63-73 (similar to an eraser)
Red Medium Tip
- Shore D 45-55 (similar to solid tires)
Brown Tough Tip
- Shore D 58-62 (similar to golf balls)
White Hard Tip
- Shore D 61-65 (Similar to a bowling ball)
Yellow Extra Hard
- Rockwell R103 (similar to a hard hat)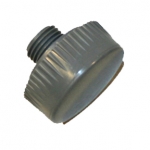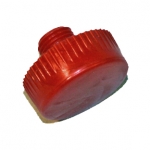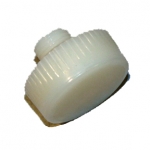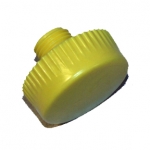 76-714VF 76-714PF 76-714TF 76-714NF 76-714AF
Product Videos
Product Reviews